This website was created to support staff of community-based organizations (and particularly those who have attended PLANET MassCONECT trainings) as they find, adapt, and implement evidence-based programs to address cancer and other health inequities.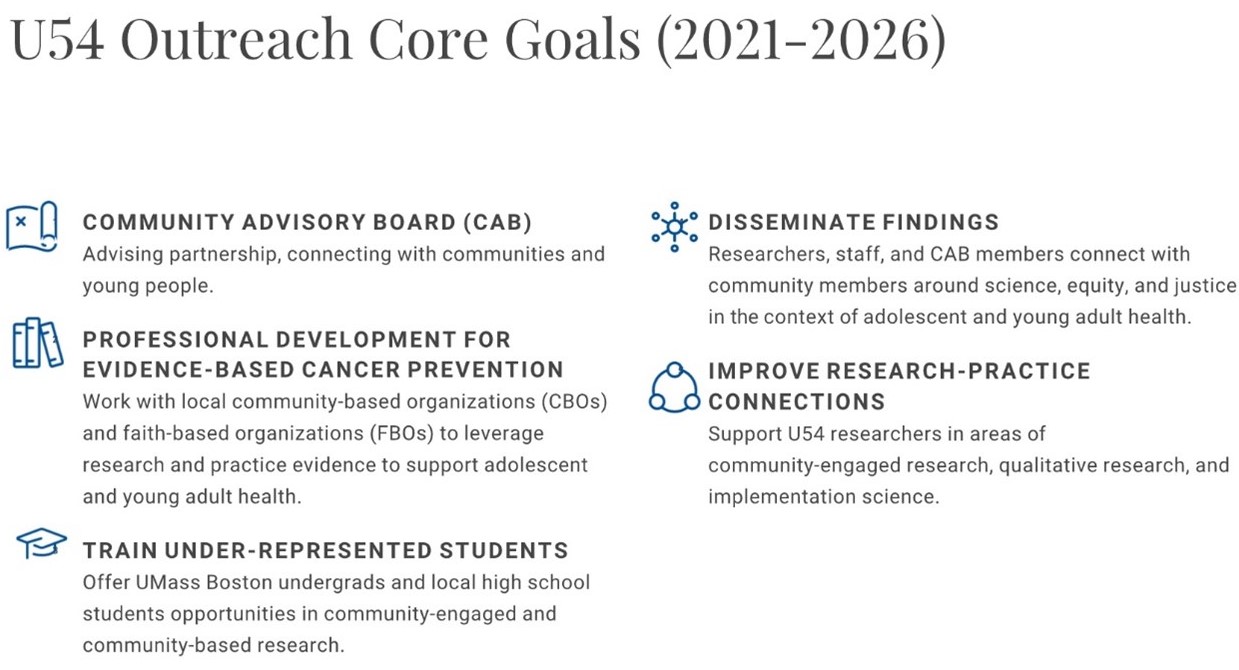 About Us
This version of the PLANET MassCONECT project (see below for its history) is offered by the Outreach Core of the U54 Partnership between the University of Massachusetts, Boston (UMass Boston) and the Dana-Farber/Harvard Cancer Center (DF/HCC), which is funded by the National Cancer Institute (NCI) through 2026 (grant number 2U54CA156732-11). 
The Outreach Core uses a community-engaged approach and is led by faculty and staff from UMass Boston and DF/HCC, in collaboration with a Community Advisory Board. This board includes representatives from: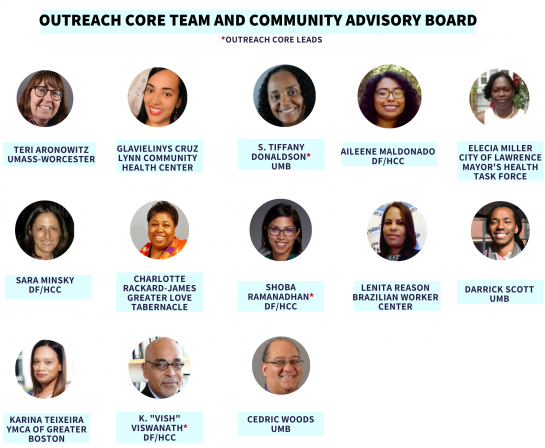 The Outreach Core works in the Greater Boston and Lawrence areas to build capacity in Community-Based Organizations (CBOs) and Faith-Based Organizations (FBOs) for using evidence-based programs and strategies for health promotion. Goals of the Outreach Core are to:
Support connections among researchers and community members, CBOs, FBOs, and UMass Boston students
Provide training and technical support to help CBOs and FBOs to deliver evidence-based prevention programs and activities. This will build off of the work of the original PLANET MassCONECT project, which was led by the Viswanath Lab at Dana-Farber Cancer Institute and community partners
Train under-represented minority students from UMass Boston in outreach and community-engaged research
Help place student trainees/interns in CBOs and FBOs
Make research results accessible to community partners
Provide cancer-focused health education and outreach
Engage underserved adolescents and young adults from our partner communities
Engage experts in adolescent health and adolescent-engaged research
Support community organizations to deliver evidence-based interventions (EBIs) focusing on alcohol and tobacco use, maintaining a healthy weight, and HPV vaccination among underserved adolescents and young adults.
About the U54 Partnership
The U54 UMass Boston – DF/HCC Partnership has flourished since its inception in 2002. The early years of the Partnership (2005-2010), with funding from the National Cancer Institute (NCI), established the foundational support and scientific leadership needed to build a promising joint research collaboration that was guided by a shared and intense interest in addressing cancer disparities. Under the leadership of Principal Investigators Drs. Adán Colon-Carmona (UMass Boston), Jill Macoska (UMass Boston) and K. "Vish" Viswanath (DF/HCC), and Dr. Gregory Abel (DF/HCC), the Partnership includes a broad range of research areas, studying everything from cells to society.
History of PLANET MassCONECT
PLANET MassCONECT was originally a community-based participatory research (CBPR) project that focused on building capacity in CBOs to find, adapt, and implement evidence-based programs (EBPs).  The program grew out of MassCONECT (Massachusetts Community Networks to Eliminate Cancer Disparities through Education, Research, and Training), a community network funded by NCI to address cancer disparities in three Massachusetts cities (Boston, Lawrence, and Worcester). 
The PLANET MassCONECT study team conducted extensive needs assessments, including organizational surveys, focus groups with CBO staff, and interviews with key stakeholders to understand challenges and facilitators to adopting EBPs for outreach. The resulting intervention included five components: 
A two-day workshop
A toolkit including training manuals, handouts, case studies, and a website tailored for local organizations
Networking events to build a community of practitioners and provide additional training support
Pilot grants—close to 225 CBO staff members in five Massachusetts communities were trained, and participants were provided with $90,000 in mini-grants
For this project, the Community Project Advisory Committee (C-PAC) representatives were from: Beth Israel Deaconess Medical Center, Boston Alliance for Community Health, Boston Public Health Commission, the City of Lawrence Community Development Department, Great Brook Valley Health Center (now known as the Edward M. Kennedy Community Health Center), Harvard School of Public Health, the University of Massachusetts Medical School, and the YWCA of Greater Lawrence.
Products from the original PLANET MassCONECT. Important outputs of the earlier project include dissemination briefs for community partners, presentations at academic and community conferences and meetings, and scientific publications. While our team has moved towards open-access publishing, some of our earlier articles are not accessible to everyone. Please email Aileene (AileeneA_Maldonado-Campos@dfci.harvard.edu) if you would like a copy of any of these publications.
Publications
Galbraith-Gyan, K., Ramanadhan, S., & Viswanath, K. (2021). Community Stakeholders' Perspectives on Introducing Human Papillomavirus Vaccination and Biobanking Evidence-Based Programs Within Medically Underserved Communities: A Community-Engaged Approach. International Quarterly of Community Health Education, 41(3), 315*323. https://doi.org/10.1177/0272684X20942071
Ramanadhan, S., Aronstein, D., Martinez-Dominguez, V. L., Xuan, Z., & Viswanath, K. (2020). Designing capacity-building supports to promote evidence-based programs in community-based organizations working with underserved populations. Progress in Community Health Partnerships, 14(2), 149–160.
Ramanadhan, S., Crisostomo, J., Alexander-Molloy, J., Gandelman, E., Grullon, M., Lora, V., et al. (2012). Perceptions of evidence-based programs by staff of community-based organizations tackling health disparities: A qualitative study of consumer perspectives. Health Education Research, 27(4), 717-728. doi: 10.1093/her/cyr088
Ramanadhan, S., Donaldson, S. Tiffany, Siqueira, C. E., Rackard James, Charlotte, E., Miller, E., Tappin, J., Tracy, N., Minsky, S. J., Maldonado-Campos, A., Bruff, C., Mahtani, S., Teixeira, M., & Viswanath, K. (2021). Connecting implementation science, community-engaged research, and health promotion to address cancer inequities in Massachusetts: The UMB/DF-HCC U54 Outreach Core. American Journal of Health Promotion.
Ramanadhan, S., Galbraith-Gyan, K., Revette, A., Foti, A., James, C. R., Martinez-Dominguez, V. L., Miller, E., Tappin, J., Tracy, N., Bruff, C., Donaldson, S. T., Minsky, S., Sempasa, D., Siqueira, C. E., & Viswanath, K. (2021). Key considerations for designing capacity-building interventions to support evidence-based programming in underserved communities: A qualitative exploration. Translational Behavioral Medicine, 11(2), 452–461. https://doi.org/10.1093/tbm/ibz177
Ramanadhan, S., Minsky, S., Martinez-Dominguez, L., & Viswanath, K. (Epub 2017). Building practitioner networks to support dissemination and implementation of evidence-based programs in community settings. Translational Behavioral Medicine.
Ramanadhan, S., & Viswanath, K. (2013). Priority-setting for evidence-based health outreach in community-based organizations: A mixed-methods study in three Massachusetts communities. Translational Behavioral Medicine: Practice, Policy and Research, 3(2), 180-188.